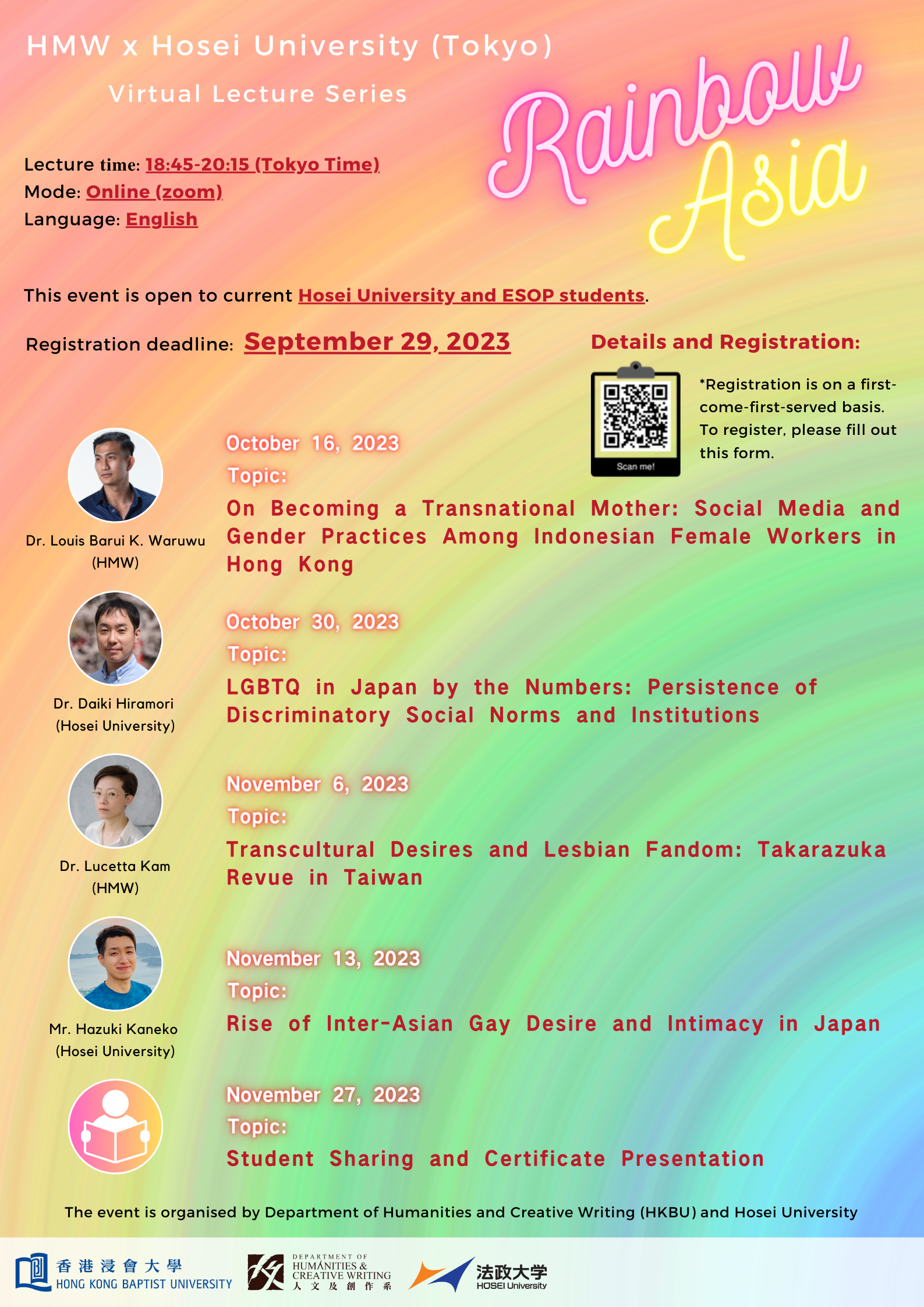 Do you want to have a co-learning experience with students from Hong Kong, and attend lectures offered by scholars from Japan and Hong Kong?
This lecture series offers an opportunity for current Hosei University (including ESOP) students to delve into the latest studies of gender and sexuality in Asia, and an exchange experience with students from the Department of Humanities and Creative Writing in Baptist University, Hong Kong.
Lecture Time: 18:45-20:15 (Tokyo Time)
Mode: Online (zoom)
Language: English
Lectures:
1. Oct 16, 2023
Topic: "On Becoming a Transnational Mother: Social Media and Gender Practices Among Indonesian Female Workers in Hong Kong"
Speaker: Dr. Louis Barui K. Waruwu (Baptist University)
2. Oct 30, 2023
Topic: "LGBTQ in Japan by the Numbers: Persistence of Discriminatory Social Norms and Institutions"
Speaker: Dr. Daiki Hiramori (Hosei University)
3. Nov 6, 2023
Topic: "Transcultural Desires and Lesbian Fandom: Takarazuka Revue in Taiwan"
Speaker: Dr. Lucetta Kam (Baptist University)
4. Nov 13, 2023
Topic: "Rise of Inter-Asian Gay Desire and Intimacy in Japan"
Speaker: Mr. Hazuki Kaneko (Hosei University)
5. November 27, 2023
Topic: Student Sharing and Certificate Presentation

Details and registraions:
To register, please fill out this form.
https://forms.gle/4Tx3Ba2RAMaktRRZ6

Registration closing date: September 29, 2023
*The event is open to current Hosei University and ESOP students.
*Participants will get a Certificate of Completion if they attend 4 or more lectures (including the final sharing session).
* Registration is on a first-come-first-served basis.