Yumiko Tanimoto, Associate Professor
Department of Policy Science on Society, Faculty of Social Sciences
Posted Jul.30,2021
Faculty Profile
Associate Professor Yumiko Tanimoto makes use of her local knowledge gained as a local official and her horizon-broadening experiences as a researcher at private organizations to explore local government. She is also striving to support students learning as a faculty member.
Weariness and a mounting sense of crisis at the local government level
I have continued to research local government with a focus on administrative activities.
At one time I was a local government employee working in Tokyo's Kita City. My work experience being involved in collaborating with residents to create sites for recycling activities made me want to raise issues in the sphere of local municipality administration, so I decided to become a researcher.
Local governments each face a unique set of circumstances. Efforts that succeed in one local government may not necessarily succeed in another. Each local government has its own personality, something for which I gained an intuitive feel while I was working as a local government employee.
On the other hand, many programs are applied uniformly nationwide. I therefore set out to explore local autonomy from a central government perspective to deepen understanding of local autonomy against a backdrop of institutional systems being uniformly designed at the central level.
Japan's Local Autonomy Law presents basic rules commonly applicable to over 1700 local governments. The decentralization reforms of 2000 enhanced local governments' autonomy in decision-making but, with the planning of legal systems still in the hands of the national government, the uniformity remains intact.
Can Yokohama City, Japan's largest municipality with a population of 3.7 million or more, and Tokyo's Aogashima Village in the Izu archipelago, home to fewer than 170 residents, continue to operate under the same systems? What should local governments and mechanisms look like after decentralization? Can the division of responsibilities between the central and local governments be justifiably kept ambiguous? Many such questions come to mind from the perspective of democratic governance, but unfortunately there has been no growing debate to address these issues.
In a society with a declining and aging population, a falling birthrate and diversifying lifestyles, the duties of local government employees have become more varied and complex. The reality is that communities burdened by both economic and emotional slumps in the midst of the global COVID-19 pandemic do not have the leeway to call systems into question. I want to continue looking from a multifaceted perspective at what approaches can be taken toward local governments to ensure their residents' livelihoods are given top priority.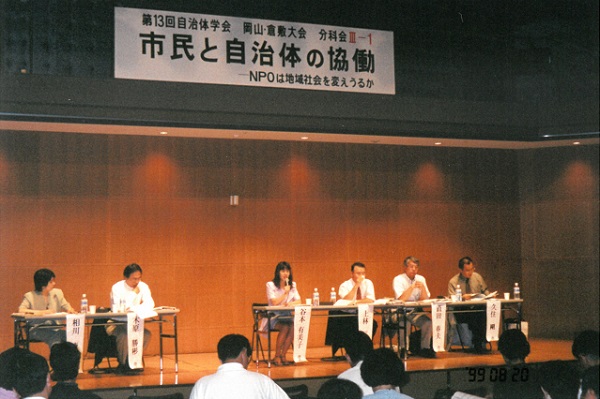 A photo taken when I spoke at a breakout session at the Japan Association of Local Government Policy Studies' Okayama Kurashiki Conference (August 1999). Interacting with local government officials, active citizens, and leading academics boosted my interest in academic research.
Giving thanks and giving back for the experiences that have brought me this far
Before joining the Faculty of Social Sciences in 2020, I was a researcher at the Institute for Public Policy in Kanagawa Prefecture and also a part-time lecturer at the Faculty of Sustainability Studies.
At one point I was in charge of a third-year exercise-style study group, an experience I found startling. Students who had previously spoken very falteringly in front of others expressed themselves cheerfully as if they were entirely different people when I had them discuss their job hunting experiences with students taking the course the following year. I was surprised at people's ability to grow, to see how much they could change, over a year.
I had been focused on mastering my own research until then but, wanting to become continuously involved as an educator to witness the dramatic growth of young people at this stage of their lives, I became more firmly committed to becoming a full-time faculty member.
I am grateful for the good fortune to have been able to carry out my research at the Tama campus since becoming a faculty member in the Faculty of Social Sciences. Lying in wait for Machida City and Hachioji City as well as Sagamihara City in Kanagawa Prefecture, all suburban residential areas near the campus, are such issues as the super-aging of their communities as well as vacant housing, public transportation and other urban problems. My proximity gives me a close-up position from which to consider what local governments should do to resolve these issues.
When I began working, I had not expected to become a researcher or educator. However, in the course of gaining experience and having favorable opportunities come my way, I have arrived "here and now" to a point at which I can do what I want to do. This is why I want to try my best to give something back.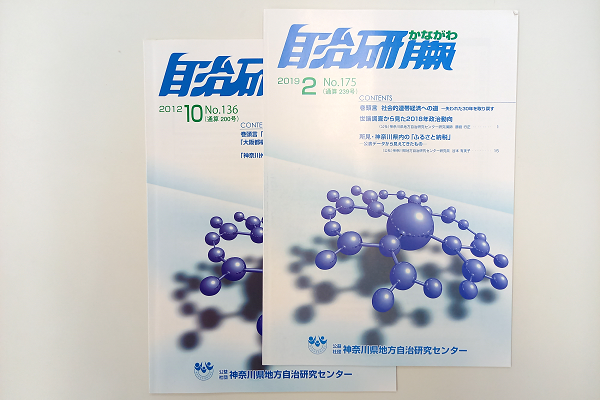 Engaged in editing a journal while I was a researcher. I developed a multifaceted perspective on the issue of local government while dealing with a wide range of topics such as welfare, local finance, and disaster preparedness.
Hoping to see the adults comprising society treat each other with respect
The COVID-19 pandemic put a halt to almost all face-to-face lessons in 2020, and my involvement with seminar students took place mostly on-screen through online lessons. I look forward to the day that the turmoil dies down and I can start interacting with students in person and pursuing my studies locally.
Once you become an adult, you cannot be free of local government no matter where you live. This past year should have reaffirmed the important role that local governments have to play in protecting local residents' lives and livelihoods. As a local resident, I hope to see you continue to take an interest in moves taken by local governments and to recall what you learn at university and put it into practical application when you or others face social issues.
While our relationship at the moment is that of student and teacher, you will become fellow adults as part of society in the next few years. We stand on an equal footing as people, and I intend to interact with students with respect for that fact.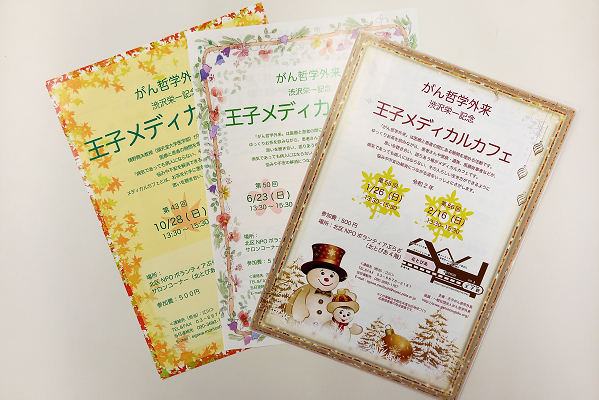 Cancer patients, their families or surviving relatives, and others continue to serve as volunteer staff at the monthly "Oji Cancer Philosophy Outpatient Medical Cafe", where they share their thoughts with each other.
Yumiko Tanimoto, Associate Professor
Department of Policy Science on Society, Faculty of Social Sciences
Born in Tokyo, she completed the Master's Program in Political Science at Hosei University's Graduate School of Sociology and then earned her PhD in Public Policy Studies. After working as an official for Tokyo's Kita City, a research fellow at the Tokyo Foundation, a specially appointed researcher at The University of Tokyo's 21st Century COE Program, and a researcher at the Institute for Public Policy in Kanagawa Prefecture, she became a part-time lecturer at the Faculty of Sustainability Studies in 2005 and an associate professor in the Faculty of Social Sciences (her present position) in 2020.