Gregory Khezrnejat, Associate Professor
GIS (Faculty of Global and Interdisciplinary Studies)
Posted Feb.7,2022
Faculty Profile
Associate Professor Gregory Khezrnejat researches border-crossing works that challenge the concept of national literature. His perspective as a second-language speaker of Japanese informs his research.
An encounter with the works of Tanizaki Jun'ichiro
My research area is modern and contemporary Japanese literature. I focus primarily on the works of Tanizaki Jun'ichiro and works that depict transcending cultural and linguistic boundaries, often termed border-crossing literature.
I was originally attracted to Japanese language because of its considerable differences with English, but an encounter with the works of Tanizaki led me on a different course.
The first work by Tanizaki that I read was an English translation of the essay In Praise of Shadows. I reacted negatively to its essentialist characterizations of Japanese and Western aesthetics, which prevented me from really enjoying it. I resolved to probe further and try to understand why I reacted that way, and what kind of writer Tanizaki was.
Tanizaki was a unique author, seen as something of a maverick at the time of his initial debut. Over time, he came to be viewed as a representative figure of Japanese literature, and his works are even included in textbooks. Much of my research has been focused on the process of this transformation, examining how Tanizaki's uniqueness was incorporated into the mechanisms of so-called "national literature."
One border-crossing author that I've researched is Professor Emeritus Ian Hideo Levy, formerly of Hosei University's Faculty of Intercultural Communication. Professor Levy has been opening new possibilities for Japanese-language literature since the 1980s. Encountering works by authors such as Professor Levy eventually led me to compose a novel in Japanese of my own.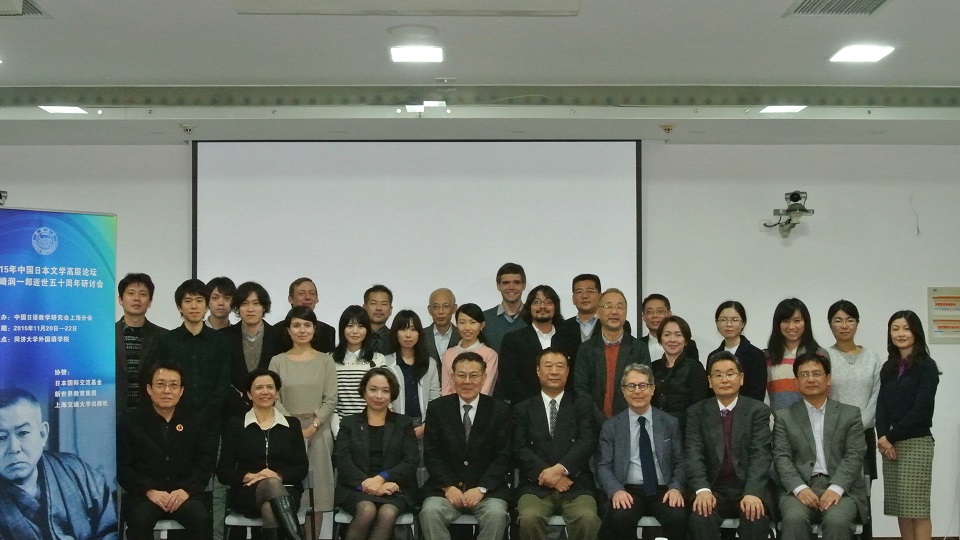 Presenting at "The Power of Narrative," an international symposium on Tanizaki Jun'ichiro held in Shanghai in 2015
A novel born out of writing in a second language
I arrived in Japan in 2007 and have been living here for 14 years. I spent ten of those years in Kyoto, where I first worked as an assistant language teacher in local schools before eventually enrolling as a graduate student at Doshisha University.
In graduate school, I made a conscious effort to avoid relying on English, using Japanese as much as possible and reading novels in an attempt to better understand the language.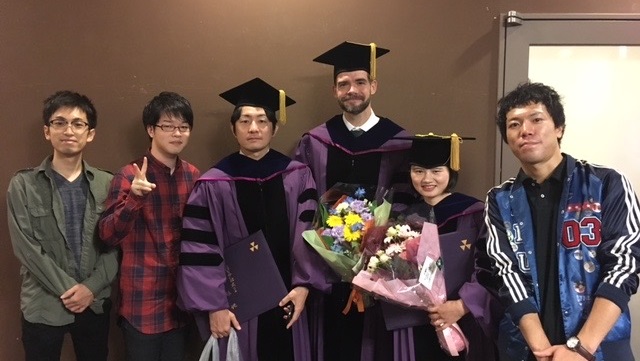 Receiving his Ph.D. in 2017. He avoided using English as much as possible while studying Japanese literature in graduate school
Around that time, I started writing a journal in Japanese as one element of my studies. But simply recording my daily activities became monotonous, so I gradually included more descriptions and sometimes composed entirely fictional episodes. This mix of fact and fiction would eventually become the basis for my novel Kamogawa Runner, which was awarded the 2nd Annual Kyoto Literature Award.
One challenge in writing the novel was choosing a point of view. In Kamogawa Runner, the protagonist is referred to by the second-person pronoun kimi. In English, the word you is used not only to refer to the second-person, but sometimes to refer to people in general. Using it in this way to tell stories often implicitly suggests that the speaker is trying to universalize their experience. Given that the novel includes some elements from my own life, I found that the second-person pronoun was also useful for distancing myself from the character.
It's an uncommon pronoun choice in Japanese novels and the reader may find it disorienting at first, but I hope that as they follow the narrative, they'll be able to identify with the character and experience Japanese language from the perspective of a non-native speaker.
It can be challenging to find the right expression when writing in a second language, but it's also an opportunity to deepen your writing. When we lose the easy cliches we tend to reach for unconsciously in our first language, what remains? At that point, it becomes a test of the writer's sensibility.
I hope to continue exploring these ideas through fiction.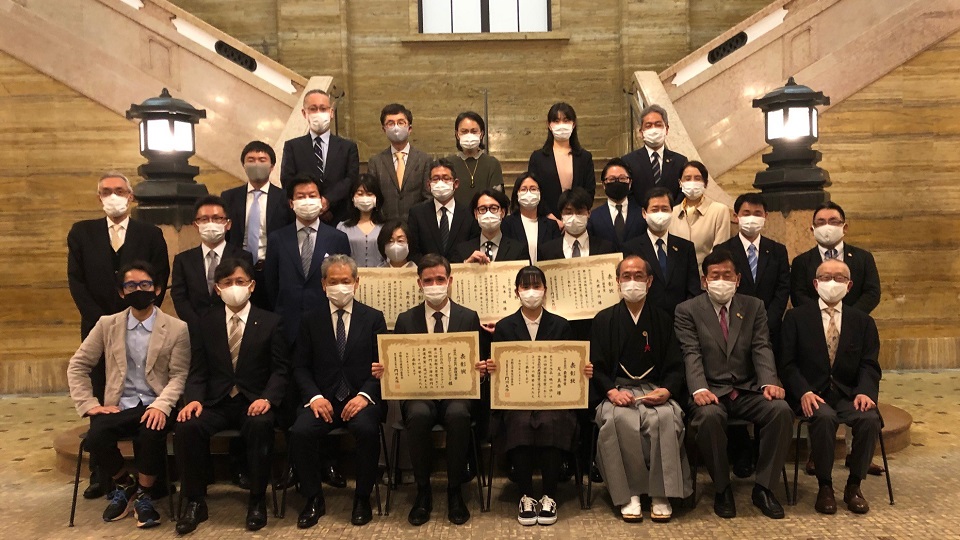 Receiving first prize awards in the international and general categories of the 2nd Annual Kyoto Literature Award in 2021. The winning novel, Kamogawa Runner, was published by Kodansha in 2021
Development requires a degree of resistance
As all of our courses in the GIS are taught in English, I use English translations of Japanese literature as class materials. Reading Japanese-language works in English can sometimes seem a roundabout approach, but translation also creates leads to new, novel interpretations. I think it can be quite meaningful.
Today, we live in a world in which we are always surrounded by text. In that sense, we are constantly acting as readers. Who created a text, what is the context, what is it attempting to convey; in order to make those determinations, it's important that we develop the skills of interpretation and analysis. The ability to read critically is the "practical wisdom" to see the substance of things without being simply led by surface-level impressions.
Reading literature is useful for cultivating the skills of critical thinking and analysis. I hope that students will not limit their reading to easily digestible texts, but also come to enjoy texts that they find more challenging. It takes time and effort, but in the end it pays off with deeper understanding. Calmly approach the text and consider it carefully. That experience will help you develop as a reader.
Gregory Khezrnejat, Associate Professor
GIS (Faculty of Global and Interdisciplinary Studies)
Born in 1984. Has a Bachelor of Arts in English Literature and a Bachelor of Arts in Computer Science from Clemson University (US). Has a Master of Arts and Ph.D. in Japanese Literature from Doshisha University. Taught as a part-time lecturer at Kansai University and an assistant professor at Aoyama Gakuin University before joining the Hosei University Faculty of Global and Interdisciplinary Studies. Became an associate professor in 2020. In 2021, was awarded first prize in both international and general categories of the 2nd Annual Kyoto Literature Award. The winning novel, Kamogawa Runner, is available from Kodansha.