Mitsuaki Furukawa, Professor in the Department of International Relations at the University of Shizuoka's School of International Relations.
We asked Mitsuaki Furukawa, a 1987 graduate of our university's Faculty of Economics, to deliver a congratulatory message at the Academic Year 2019 admission ceremony.
During his own university studies, Mr. Furukawa went as an overseas student to Truman State University, and after his graduation he joined Shimizu Corporation, later moving to the Japan International Cooperation Agency (JICA).
While at JICA he gained experience in South Sudan, Mozambique, Albania, Afghanistan and other areas suffering chaos as they emerge from conflicts or isolationist policies, and he researched approaches to international development efforts as an executive senior research fellow with the JICA Research Institute, the research arm of JICA.
From April 1, 2019, he will be applying this experience to educational and research activities at the University of Shizuoka's School of International Relations in the capacity of professor.
Good morning. As just introduced, I am Mitsuaki Furukawa.
Let me begin today by offering my congratulations to this year's new students and their families and friends as well as to the President and the university's faculty and staff. Upon graduating from Hosei University myself, I joined Shimizu Corporation and then the Japan International Cooperation Agency, or JICA, where I spent many years involved in international cooperation. From April, I began down a new path, just as you are doing.
Life is a succession of minor and major day-to-day choices. When you wake up in the morning, your day begins with a variety of decisions: what you will eat or not eat, what clothes you will wear today, whether you will study or go out and have fun, and so on. That's life. These decisions also have social and economic impacts. Choosing Hosei University is a major choice on your part, and opting to proceed down a new path is a major life choice for me. Japan at the moment has an environment in which we can make many such choices freely, but you should by no means take such an environment for granted.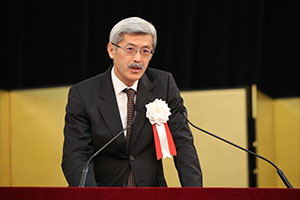 How many countries are there in the world? The United Nations currently has 193 member countries, but no more than one-fifth of those, about 40 countries, can be considered developed countries like Japan. I have been to many countries, about 70 in all, as part of my work, and there are surprisingly few countries like Japan in which people can make choices freely.
In Japan, we can drink safe water essentially for free. Many people can go to school. They can go to hospitals, they live in peaceful and safe surroundings, they can pretty much obtain anything they want if they have the money, and they can move about freely. However, you need to know that there are many countries in which you cannot make such choices. The fact is that there are still quite a few countries in which you need a pass to go from city to city, as depicted in the recently released film "Fly Me to Saitama".
Today I want to tell you a little about my experiences in South Sudan, where I was posted as JICA Chief Representative until July 2016.
Do you know anything about South Sudan? The country only makes the news in Japan for such reasons as the controversy over the SDF's daily activity logs or the rescue missions conducted by the SDF, so you may have a strong image of it as a dangerous place. Certainly South Sudan has seen repeated conflict over the past half-century. It finally gained its independence from Sudan in July 2011, and joined the UN as its newest and 193rd member. South Sudan is a land-locked country located in East Africa with an area of about 1.7 times the area of Japan and a population of 12 million comprising nomadic herdsmen and farmers from 64 different ethnic groups. As one of the poorest countries in the world, it is truly undeveloped. For example, the capital city of Juba has about 1.2 million residents but, despite being the country's capital, only a tiny percentage of households have access to running water, and electric power is almost entirely unavailable. Fewer than 10,000 people are able to graduate junior high school nationwide, and there are a mere 270 kilometers of paved roadway in all of South Sudan. The recurring conflicts have left four million people, one-third of the country's population, homeless and living their lives as internally or externally displaced persons.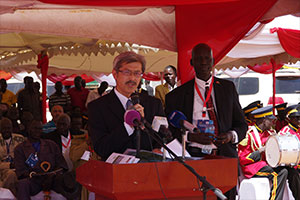 In 2013, only a year and a half after the country gained its independence in 2011, an exchange of fire during a power struggle over the presidency blew up into an ethnic conflict. JICA had no choice but to withdraw outside the country. After things had stabilized somewhat, I was posted to Juba in November 2014 as the Chief Representative of the JICA South Sudan Office.
JICA provides aid to such countries. However, conflict broke out in the capital Juba once again in July 2016, and in the blink of an eye the conflict had spread throughout the country. A large-scale gun battle started near my office, and there was even an exchange of mortar fire. While rescuing some of our experts still there, the car in which I was riding was shot by a soldier. As the fighting continued, we evacuated 93 Japanese and internationals including other JICA personnel outside the country on a charter flight. It was a choice made in a stressful, life-threatening situation.
Given these recurring conflicts, animosity between ethnic groups and distrust among the public have become widespread in South Sudan. Young people under 30 make up 75% of the population, and many of them were drafted into military service.
To boost trust and unity among ethnic groups and the public and thereby promote peace, JICA decided to hold what is known in Japan as a national sports festival. This event was organized to bring together young people up to 20 years of age from around the country to participate in soccer matches and track and field events in the capital Juba over a ten-day period. The South Sudanese government named this event "National Unity Day".
I worried about whether we would actually be able to hold the first "National Unity Day" since the country's independence, and if young people would in fact take part because many young people were concerned that they might be killed if they came to Juba. Nevertheless, as many as 350 youths representing their respective states courageously streamed into the city. There is almost no one in South Sudan who has not had a relative killed, so coming to Juba was undoubtedly a major choice. Tentative about visiting Juba, people who had regarded each other as enemies slept under the same roof, ate meals together, and competed against each other in sporting events, in the course of which they came bit by bit to understand and trust each other. Scenes of losing athletes breaking down and crying and the winners extending them a hand were broadcast throughout the country via television and radio, and the spectators watching these scenes no doubt felt that here were fellow South Sudanese. The National Unity Day indeed proved worthy of its name as it enhanced solidarity among ethnic groups and the public. It was the young people who bravely participated that made this all happen.
Conflict broke out again in July of that year, and the dire situation made JICA all the more eager to help South Sudan participate for the first time ever in the Olympics, a celebration of peace, and JICA provided support for South Sudan's participation despite having evacuated outside the country. Leading athletes who took part in National Unity Day were sent to the Olympics. By boldly taking action, they had themselves opened up a new avenue.
Now let me talk about the experience of one bureau chief serving in the South Sudanese government in the Ministry of Labour, Public Service and Human Resource Development. Before independence, he had been forced to flee his hometown when it was bombed by the central Sudanese government. While escaping to Ethiopia on foot over a roadless path several hundred kilometers long, many of his family members and friends who had fled at the same time died along the way, killed by lions or drowning in rivers. After finally reaching a refugee camp in Ethiopia, he received some education, and he was given more schooling after being transferred to a refugee camp in Kenya. He subsequently went on to teach at a Kenyan university. When South Sudan gained its independence, he received a request from the newly established government to return home and serve as a bureau chief. Although security was still poor and salaries were almost never paid, he decided to spend down his savings and return to his home country. This was unquestionably a major choice for him.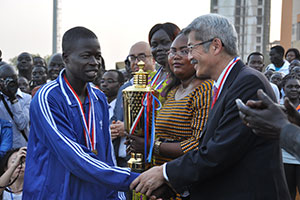 South Sudan's circumstances differ from those of Japan, and you cannot make free choices there. Even given those constraints, the people are valiantly living within the scope of the choices available to them. Young people have daringly made what choices they can, and this bureau chief returned to South Sudan willing to contribute to this home country, even for an inadequate salary.
All of you will be going on to make a variety of day-to-day choices in your lives. Today's Japan allows for a wide range of choices. This should in no way be taken for granted, though. The world is now entering a chaotic era. It was not so long ago that Japan joined the ranks of the developed countries. It was not so long ago that we in Japan became able to make free choices. When my mother was a child, she was not able to go to school, but instead had to help out with the farm work while taking care of her younger sisters. Even so, she wanted to study, so she would pick up newspapers and other scraps of paper that had been tossed away and diligently study the characters printed on them.
If you are determined enough, there are many things you can do regardless of the environment. You should be able to take on any number of challenges in Japan, which has an environment that permits free choice.
Have you heard of the 16-year-old girl from Sweden deeply concerned about climate change who has been in the news lately? She has taken action herself to highlight the dangers of global warming. She is worried that the planet is heading toward destruction unless we act now. She attracted a large number of supporters, and young people and others from more than 100 countries joined together to participate in demonstrations. The choice she made based on a strong conviction encouraged many other people to take action.
The future of Japan will rest on your shoulders. Can you keep Japan a country in which one can make choices freely, or will you build a different society? As you willingly take an interest in a broad range of topics and confirm various things for yourself, I hope you will discern the true essence of these when making future choices. Hosei University offers excellent opportunities to study abroad and a host of other programs. It is a wonderful institution that will, if you want it to, answer many of your questions.
I wish you all the best of luck in your future endeavors and, once again, I congratulate you on being admitted to Hosei University.
Mitsuaki Furukawa
After graduating in March 1987 from the Department of Economics, Faculty of Economics at Hosei University, he joined Shimizu Corporation the following month, later taking a position with the Social Development Study Department Division 2 of JICA (January 1989). In August 1991 he was assigned to the Japan Disaster Relief Team (JDR) Secretariat of JICA's Medical Cooperation Division and served as the Asia-Pacific Regional Chairman of the International Search and Rescue Advisory Group, the Office of the United Nations Disaster Relief Coordinator (UNDRO), and its successor, the UN Department of Humanitarian Affairs (DHA). He went on to appointments as Deputy Resident Representative, JICA Tanzania Overseas Office (January 1999), Resident Representative, JICA UK Office (December 2007), Executive Senior Research Fellow, JICA Research Institute (June 2009), and Chief Representative, JICA South Sudan Office (November 2014). As of April 2019, he holds the position of Professor in the Department of International Relations at the University of Shizuoka's School of International Relations.