"Cultural Diversity Corners"
2015年04月22日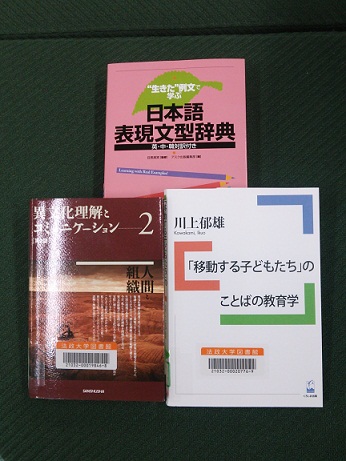 A new section, the "Cultural Diversity Corner," has been added in the libraries on all 3 campuses (Ichigaya,Tama and Koganei)
This section has been established in conjunction with the MEXT (Ministryof Education, Culture, Sports, Science and Technology) FY2014 Top Global University Project.
Available material, audio and hard copy, for reference and research purposes include the following topics:
Understanding of Cultural Diversity, Communication
 Multicultural Symbiotic Education
 Japanese Language Education and Teaching
 Learning Japanese Language

These topics can also be found on other shelves throughout the libraries. Please check with the Online Public Access Catalog (OPAC) for availability and location. Generally speaking, material of other campus libraries may be gotten by using the inter-campus delivery service. Please feel free to avail yourselves of this service.

Location of the "Cultural Diversity Corner" (in the respective libraries)
Ichigaya Library: in the Learning Commons on the 1st floor of Fujimizaka Building
Tama Library : in the Creative Room on the 3rd floor of Library/Research Building
Koganei Library : in front of the entrance gate of the library on the 1st floor of South Building