Why choose the Faculty of Sustainability Studies at Hosei University? --- Eight reasons to choose the Faculty of Sustainability Studies at Hosei University---
1. Interdisciplinary education in science and the humanities
The curriculum is designed so that students can experience interdisciplinary learning, extending over various fields in the social sciences, humanities, and natural sciences. Interdisciplinary learning provides students with an environment to develop their ability to think flexibly and from a broader perspective, which are the most important factors when considering the issues of sustainability and the environment.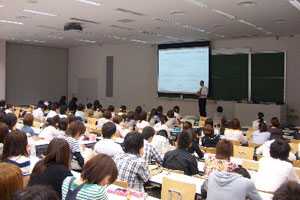 2. Deepening knowledge and interpersonal bonds in seminar courses
Our faculty offers seminar courses on diverse subjects and mentors students through various classroom and extra-curricular activities. More than seventy per cent of our students are enrolled in seminars, in which they not only deepen their knowledge about the fields of their choice but also develop strong bonds with professors and fellow students alike.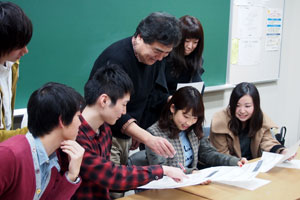 3. Seminars on Sustainability Studies from experts in the field
The faculty holds a special seminar semiannually, consisting of more than a dozen ninety-minute talks by various experts from backgrounds including business corporations, central and local government, NPOs, research and art-related organizations, and so on. In each talk, students are informed of up-to-date information about what is taking place in each expert's working environment and are given a hint or clue on how to tackle individual agendas in their fields. Through asking questions and exchanging views with the experts, students can get a sense of society outside the university.
4. Experiencing both Japan and the world through field studies
A field study is a form of on-site learning where students leave the campus and visit actual activity sites. Domestically in Japan, these include various themes such as regional development and community planning, agriculture, community-based welfare, culture, environmental management of companies, energy, antipollution and nature conservation, etc., whereas internationally they include international cooperation, global society, and communication, etc. Through these experiences, students have the opportunity to use all five senses as they undertake these activities first hand, and through communicating with people engaged in these tasks, it is expected that they will be able to raise their awareness of human society and environmental issues, enabling them to not only improve themselves more deeply as people, but also to apply these experiences to their university study.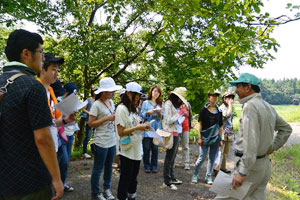 5. Supporting your international and intercultural experiences on campus
Studying overseas, especially if you are living away from family for the first time can be daunting. All professors and office staff in our faculty understand the difficulties faced by international students, and are ready to provide support for you. We want you to develop social connections both with other international students and with Japanese students ? you can share experiences and learn about Japan together. If you have any questions or problems, you can speak to our international student adviser, as well as to any professors or office staff. We should be able to help or put you in touch with the right people. We are sure that during your time in our faculty you will develop valuable skills that can be carried forward in your career either in your home country, here in Japan, or elsewhere in the world.
6. Internship programs and support in pursuing a career
This program offers students opportunities for career-related experience outside the classroom. Through internships, students can gain additional training, practical experience and prepare them for their future professional career. Students should take the initiative to search for a suitable internship post provided by government agencies, local governments, companies, or NPOs. Academic credit will be awarded for an internship on completion. Further career services are also provided by the Hosei University Career Center.
7. Close interactions between teachers and students
We focus on collaborative student-teacher communication in every educational opportunity, especially in seminars and field studies. Collaborative investigation or constructive discussion both in the classroom and in the field will lead to students' systematic understanding, new discoveries, or original ideas in each research field of interest. Teachers will also provide students with professional suggestions and technical assistance at any time, including during office hours.
8. The Social Responsibility of the Faculty
After the Great Earthquake disaster in Tohoku in the spring of 2011, there has been discussion about the wide-spread need to rebuild the whole infrastructure of our civilization. The responsibility of a university for modern society in crisis does not exist only in education and research but to endeavor to deal more directly with the current problems in the society and contribute substantially to resolving them. But how can this be achieved? Our faculty members are trying to find an answer to this question by organizing and supporting several events both on and off the campus. We provide regular discussion meetings consisting of documentaries, films, and lectures held by specialists. Symposiums and charity concerts are also in our programs.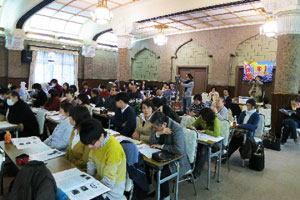 Meet Our Students
Our professors and your fellow students will inspire you to achieve your personal and professional goals in our faculty. Please read about the experiences of current and past students in our faculty.
Jianan Han, China
I entered the School of Sustainability Studies in Hosei University at an exchange student in 2006 after graduating from high school in China. At that time, the pollution problem was extremely serious in China, and I chose this school as I wanted to study about how developed countries deal with and think about environmental problems. In particular, I have strong memories of participating in a field study that allowed me to experience environmental issues first hand. It was an extremely valuable experience in that I was able to see this both domestically and overseas. After graduation, I started working in the human resources industry, and even now I am applying the communication skills I acquired at university in my workplace on a daily basis. For those who are interested in urban development or communication, or those who would like to study these in the future, why don't you try the School of Sustainability Studies?
Ryu Yeonhee, South Korea
I have been interested in the environment ever since I was a child. For that reason, I decided to study abroad in Japan, which is highly developed in environmental issues, and chose the School of Sustainability Studies in Hosei University. When I was a first year student at university, I learned about general environmental problems and gained foundational knowledge, and then from my second year, I joined research groups that focused primarily on international law and international environmental law. The knowledge and experience I gained through these research groups have become irreplaceable assets to me. It is necessary to think about how to approach the solutions to environmental problems from various perspectives, given the complexity of factors involved. The School of Sustainability Studies provides a wide range of fields through which to study environmental problems such as politics, economics, law, and management. I strongly recommend you to broaden your views in the School of Sustainability Studies, and to grow in your university life.
Shaowei Wang, China
My name is Shaowei Wang, and I am a second year student in the School of Sustainability Studies. I entered the School in Hosei University in 2013. There are many serious students in Hosei University who apply themselves to their study diligently, and it is an easy environment in which to study. I am currently studying environmental economics in Professor Kuninori's seminar course, where both the professor and senior students provide advice about the classes and the exams. Even as a self-funded exchange student, there are several support opportunities such as tuition fee waivers and scholarships at Hosei University, which means that students can keep part-time work to a minimum and focus on their studies. In addition, Hosei University is host to a range of extra-curricular activities, making it possible to engage in activities apart from study. Although I've not been at Hosei University very long thus far, I feel that I am able to spend a rewarding student life here.
Chen Wei, China
My name is Wei Chen, and I am studying at Hosei University in the Faculty of Sustainability Studies. The economy in China has been developing rapidly in recent years, but this has led to serious environmental issues becoming serious problems in society. I have been worried about the overall environmental degradation which has become apparent in China, so I decided two years ago to come to Japan to study of environmental issues in Hosei University's Faculty of Sustainability Studies.
In the Faculty of Sustainability Studies, there are many highly respected teachers and they conduct classes with a kind and sincere attitude. In the Human Environment Seminar, experts and practitioners at the forefront of various fields such as organizations, the government, NPOs, research institutions and so on come and give lectures each week. Through the lectures, students can gain varied practical knowledge and the latest information about environmental issues. In addition, students are able to think about environmental issues from various fields and try to work out solutions for environmental problems. When I was a 2nd year student, I joined an environmental economics seminar which I was interested in. It was the first time I had joined a small class such as this, and I could actively participate in group discussion and presentations. In addition, I could think about environmental issues deeply and try to seek out solutions for myself. Through this process, I can feel that I have matured. Moreover, through the seminar, I could improve my Japanese and make many Japanese friends. From my personal experience in the faculty, I strongly recommend many overseas students join the Faculty of Sustainability Studies in Hosei University. As a big family in the faculty, let's think about creating a society that can harmonize between the environment and human beings!