A thorough and independent program for cultivating the personnel that will act as the leadership for the next generation business society
The Faculty of Business Administration is composed of the 3 departments of the Department of Business Administration, the Department of Business Strategy and the Department of Markets and Management and through applies the characteristics of each of its course to cultivate the professionals with specialized knowledge necessary to respond to society's various needs.
The Faculty of Business Administration designs curriculums for each of the major business administration fields to ensure that students are equipped with the basic specialized knowledge they will need to become professionals, and has greatly increased the number of seminars held and continues to work towards small group instruction. The faculty also offers a wide variety of programs such as study abroad programs (SA), certified accounting, carrier management and internships to contribute to improvements in students' English language skills, acquisition of certifications and creation of a career plan.
All while still maintaining the former merit of the Faculty of Business Administration which was the broad study of a variety of foundation subjects rather than a narrow focus on specific fields. In an era of change, having a foundation of a wide range of knowledge makes for the most adaptable professionals.
The Hosei University Faculty of Business Administration has produced its global "Business School" model for the 21st century based on these 3 departments, and look forward to you joining us.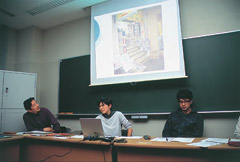 Degree Conferred: Bachelor of Arts(Business Administration)
Policies
Departments
Faculty Members
Syllabus