Designing sustainable Japanese cities that coexist with nature
Due to the improvements in social infrastructure that have occurred in recent years, the quality of engineers required by our society has changed significantly in the field of civil and environmental engineering. It has become the mission of these engineers to address multilateral issues such as conserving the global environment, developing urban areas while coexisting with nature and ecosystems, constructing a recycling society, and so on. Therefore, our main aim is to develop students capable of designing cities suitable for this new era with a broad perspective and sensibility based on "integrated design philosophy," which is our educational ideal, and beyond the framework of the more traditional "product manufacturing philosophy" ability.
A focus on the following three fields of urban planning, environmental systems, and facilities design will allow students to cultivate their abilities in order to understand and resolve various issues accurately using a wide perspective. This balanced curriculum will develop highly skilled engineers and researchers.
Characteristics
There are different entrance systems for students from different backgrounds to enroll in the Master's Degree Program. The "Three-Year Career Program" is for graduate students from human or social sciences departments/faculties.
The classes for our three main fields ("urban planning," "environmental systems," and "facilities design" ), are conducted in a balanced manner from basic to advanced levels.
The foreign language classes are provided to give students a command of foreign languages so that they will be able to work internationally. These classes also focus on urban environmental design concepts.
Through "studio classes" in each specialized field, students can learn how to apply their expertise to practical activities such as social activities, design, and production.
Objectives
Students will acquire sound knowledge and wisdom suitable for the real world and communication abilities that enable them to participate in international society.
We will foster engineers that are capable of wisely conserving and restoring the environment and implementing disaster prevention technology in harmony with the natural ecosystem based on cutting-edge techniques for designing, constructing, and improving social infrastructure.
Students will study to become independent researchers or professional engineers. During the course of their studies they will write papers, design, or become involved in practical works during research training or practicums based on tutorials that are created by supervisors.
Improvement of Shin-Mitsuke-Bashi ("Regeneration Plan of Outer Moat: From Mound To a Bridge")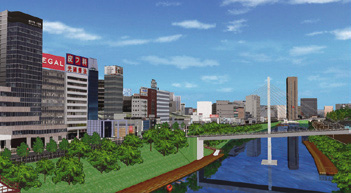 Open Examining Meeting of Research Papers