Research Center for International Japanese Studies
This Center is a base for the "Declaration of International Japan Studies" of the 21st Century Center of Excellence (COE) program that was adopted by the Ministry of Education, Culture, Sports, Science, and Technology in fiscal year 2002.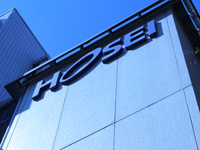 Under the basic concepts of "Japan Studies as a cross-cultural study" and "Japanese culture's internationality" the Center conducts international research, as well as providing information making full use of modern IT methods. As an educational program, the Center operates the International Japanology Research Center.