Boissonade Institute of Modern Law and Politics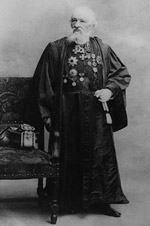 This Institute was established in 1977 in memory of Dr. Gustave Boissonade, who is known as the father of modern law in Japan and who contributed much to Hosei University during its formative period.
The Institute has two principal objects. One is to collect and research materials concerning Boissonade that would otherwise be scattered and forgotten. The other is to make an interdisciplinary approach to several complicated legal phenomena in modern society that could no longer be analyzed with conventional legal approaches.