Course of Aviation Technology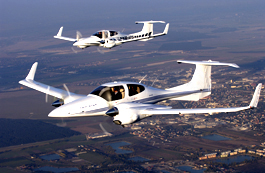 In 2008 the Course of Aviation Technology aiming at full-fledged fostering of pilots in Japan's skies will start in the Department of Mechanical Engineering of the Faculty of Science and Engineering. Fukushima Airport will be the base for flight training. This effort to conduct flight training from a base of a public regional airport will be a first in Japan.
Fostering pilots in Japan's skies
By not only learning aviation mechanisms in the classroom but actually operating aircraft and flying in the air, students will study an engineering curriculum both technically and practically, and will be able to obtain qualifications that can be used as engineers who have intimate knowledge of aircraft and as pilots as well.
Support through collaboration of industry-government-academia
To fulfill youthful dreams, and also due to the circumstance in which the Japanese aviation industry perks up and a shortage of pilots is concerned as baby-boomer pilots reach mandatory retirement, Hosei is collaborating in running this program with Japan Airlines (JAL), the Ministry of Land, Infrastructure, Transport and Tourism (Civil Aviation College), flight schools, Fukushima Airport, and aircraft manufacturers.
Sense the wonder of aircraft through flight experience
In the summer vacation of the first year, students will be able to experience flight and get a hands-on feel for aircraft operation. Gradually students will undergo intensive training for solo flight and acquisition of their licenses while building up their knowledge of mechanical engineering.
Degree conferred: Bachelor of Science and Engineering(Aviation Technology)