Faculty of Sports and Health Studies
Gain a Scientific and Cultural Understanding of Sports and Health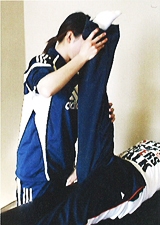 A systematic education from introduction to courses taught by a variety of specialists and practical skills and training specialized courses.
A profuse amount of practical training and a multifaceted approach are required for the complex "Sports and Health Sciences" research and education. A wide variety of staff are planned for this faculty including instructors who have experience as some of the country's top representative athletes and comprehensive regional sports club promoters as well as doctors, physical therapists, acupuncturists, athletic trainers and other health sciences professionals with a variety of qualifications who will provide a unique course of study with the following type of structure.
1. Perspective Formation Subjects
A variety of subjects will be offered will serve as the basis for this faculty's students from sports philosophy and people and sports type humanities subjects to an overview of sports medicine and an overview of health sciences type natural science subjects.
2. Foreign Language Subjects (English)
In order to strengthen international points of view and practical English skills, a thorough 4 year English study course is being considered which includes overall English, English communication, health sciences literature review and other topics.
3. Core Exercises
An annual class which allows students to build the ability to adapt to college life in the first term. During summer vacation all students will create reports on sports and health related themes and these reports will be used as class materials for reciprocal learning method exercises in the second term.
4. Specialized Core Subjects
Sports science introductory classes, sports instruction introductory classes, sports business theory, communication theory, lifelong sports theory courses determined to allow students to acquire the basics of sports and health sciences and understand their interaction with society before beginning more specialized subjects.
5. Specialized Fundamental Subjects
Subjects which form the basis of the 3 specialized courses, studied from an interdisciplinary approach to prevent any focus being place on any one course area before beginning course subjects.
6. Specialized Subjects
3 courses, "Health Design Course", "Sports Business Course" and "Sports Couching Course", with each course designed so that they can be studied in correlation with each other.
7. Specialized Exercise, Practical Skill and Training Subjects
After compiling the theoretical knowledge earned from the 3 courses, students will learn methods for dealing with a variety of detailed issues and develop a high level of problem solving ability. Students will learn how to put all of the theory they have learned in class into practice as their own skills through small participation number exercises, practical skills and training subjects.
Degree Conferred:Bachelor of Arts (Sports and Health Studies)
Department
Department of Sports and Health Studies