Off Campus Facilities
Hosei University also possesses the following off campus facilities which can be used for student seminar activities and extracurricular activities.
Fuji Seminar House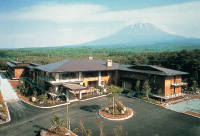 Nestled in the primeval forest of Aoki ga Hara at the base of Mt. Fuji on a 1,100 meter height volcanic plateau, Fuji Seminar House has a total floor space of 2,200m2, 5 large and small sized seminar rooms, and 29 western and Japanese style room accommodations, including barrier free rooms. Sports grounds, tennis courts, baseball fields and other athletic facilities are also located nearby, the house can be used for seminar camps and other purposes. Also located close to Koyodai, fuketsudou caverns and other places of interest.
Ishioka All-purpose Gymnasium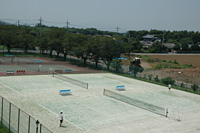 An all-purpose gymnasium located in Ibaraki prefecture's Ishioka city. It has a total area of 152,190m2 and has 9 tennis courts, a baseball field, a soccer field, rugby field, gymnasium, dojo and other athletic facilities. The comfortable facilities and abundant space at "Sports House 96, 98" can accommodate up to 200 people and can be used for athletic group training camps, sports activities of various school circles, and class or seigeminar sports events.