Hosei University English-based Degree Programs

Since 2008, when Hosei University established the Faculty of Global and Interdisciplinary Studies(GIS), offering bachelor degrees in the liberal arts taught completely through the medium of English, the university has been at the forefront of global education. Now, to increase the number of students we are able to accept from overseas, Hosei University is taking the initiative and expanding its English-based degree programs as follows:

Global Business Program (GBP) from September 2016
Sustainability Co-creation Programme (SCOPE) from September 2016
Institute for Global Economics and Social Sciences (IGESS) from September 2018
Global MBA Program from September 2015
Institute of Integrated Science and Technology (IIST) from September 2016
About English-based Degree Programs (for undergraduate students)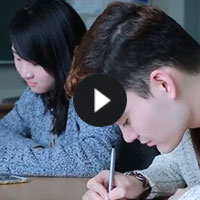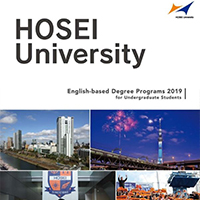 To learn more about English-based Degree Programs, please refer to this brochure which includes a wide range of information. Click it to get a PDF file.
Listen to what Hosei students said. This video includes many interviews of students and professors, so prospective students can get a deeper understanding of Hosei University
To learn more about our innovative programs, please see the following links:
Undergraduate
Global and Interdisciplinary Studies (GIS)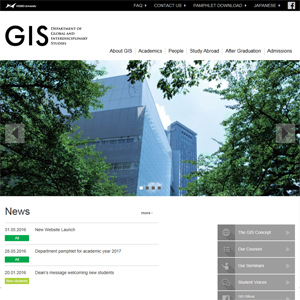 Global transformations have revealed the need today to move beyond traditional frameworks of national, ethnic, and regional thinking. Focusing on a variety of social and political challenges confronting contemporary society, the program at GIS seeks to cultivate a truly global perspective, developing innovative ways to both analyze and engage with the shared experiences of an increasingly interdependent world.
Global Business Program (GBP)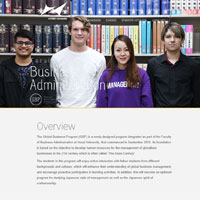 Hosei University established a new course of study from 2016. Its foundation is based on the objective of developing human resources adaptable for the management of globalized business in the 21st century ? often referred to as "The Asian Century". This course is conducted in English, and offers the opportunity to study the real life practices of Japanese corporations engaged in global business management.
Sustainability Co-creation Programme (SCOPE)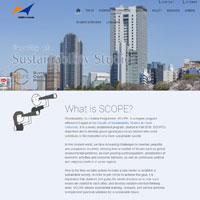 Hosei University, The Faculty of Sustainability Studies established a new academic course called "SCOPE" from Fall 2016. The SCOPE "Sustainability Co-creation Programme" has as its objective to develop "GLOCAL (global + local)" human resources. The "GLOCAL" human resources are those who can command both global and local points of view respectively, and with which they lead to the creation of a sustainable society.
Institute for Global Economics and Social Sciences (IGESS)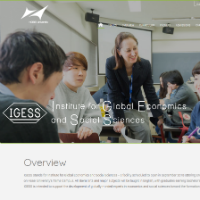 IGESS stands for Institute for Global Economics and Social Sciences ? a facility scheduled to open in September 2018 offering English-based degree programs on Hosei University's Tama Campus. All liberal arts and major subjects will be taught in English, with graduates earning bachelor's degrees in economics. IGESS is intended to support the development of globally-minded experts in economics and social sciences toward the formation of a sustainable society.
Graduate
Global MBA Program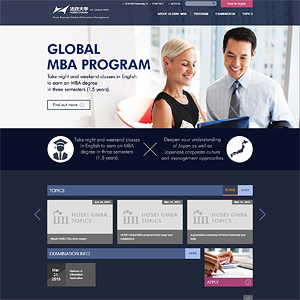 There is a small country tucked away in the corner of Asia whose strengths we want today's young generations to learn from. The name of that country is Japan. In that country, HOSEI University has established a new MBA program for today's global
Institute of Integrated Science and Technology (IIST)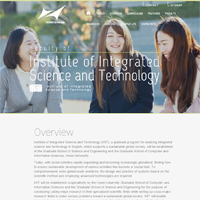 Institute of Integrated Science and Technology (IIST), a graduate program for studying integrated science and technology in English, which supports a sustainable global society, will be established at the Graduate School of Science and Engineering and the Graduate School of Computer and Information Sciences, Hosei University.
Exchange Students from Overseas Program(ESOP)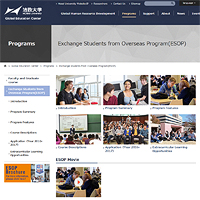 The Hosei University Exchange Students from Overseas Program (ESOP) is an independent academic program administered under Hosei University Global Education Center. Although ESOP is independent of Hosei University's regular faculty system, both professors and students from the regular faculties teach and study in ESOP sponsored classes, and ESOP is an integral component in Hosei University's international cooperation efforts.