Hosei University is selected as Member of The Top Global University Project (President Yuko Tanaka)
October 21, 2014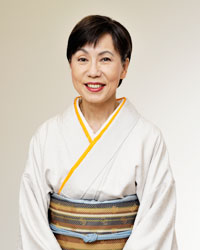 Hosei University has started on its path toward becoming a Top Global University. By this selection, Hosei University will now become a truly global university.
A Top Global University is a university not only where students are able to acquire the skills needed in order to better be able to work freely and competitively but also where they are able to study in depth subjects of their own choosing.
Society is ever changing. We do not know what the future has in store for us-- where we will work or where our studies will lead us. It is our wish, though, that you acquire the ability to be successful in any endeavor. To this end, Hosei University will work with you by helping you acquire the language skills necessary to meeting your chosen goals. Opportunities for cultural exchange will increase even more as Hosei also provides support for studying abroad and the number of international students on campus has increased.
Of the utmost importance is the forging of friendships which will afford contact with the different values, histories and philosophies prevailing throughout the world. And in turn, you will be better able to develop a broader unbiased perspective. You should also be able to talk about Japan objectively while at the same time comprehend what the other person is saying. Discussing with confidence about one's own society and culture while able to understand another's viewpoint is vital. A Top Global University can and will create the framework for students to acquire such abilities.
As a Top Global University where graduate students and other members of society conduct their research, announcements made globally regarding their ongoing activities will give them opportunities to connect with other researchers around the world. Increased competition is foreseen but research results will improve because of it.
Instructors and staff will become more diverse and the campus climate will change. This will empower you to be motivated learners wherever you go or are. The University will become an arena for even more free and open discourse. We encourage you to utilize what Hosei has to offer, and study with a sense of freedom, letting your unique talents thrive and prosper.
Yuko Tanaka
President of Hosei University