The 33rd Annual Japanese Language Speech Contest for International Students was held
July 30, 2014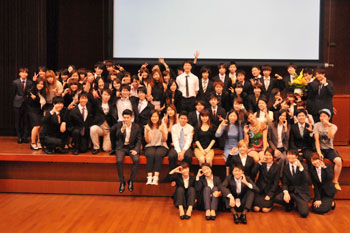 On Saturday, June 21, the 33rd Annual Japanese Language Speech Contest for International Students was held at Satta Hall on the Ichigaya campus.
12 international students from South Korea, China, Taiwan, Malaysia and Italy participated in the contest this year.
The huge audience listened attentively to the contestants enthusiastically giving their speeches on a wide variety of themes including Japanese culture and their feelings and thoughts about student life in Japan.
The contest was closed after contestants were given a big round of applause, filling the hall with a warm atmosphere.
<Organizer: Hosei International Club (Hi-C Orange) / Supporters: Hosei University International Center, Hosei University Supporters Association>
You can watch the video of the contest on our YouTube channel "hoseiPR" (in Japanese)