Movie Screening & Talk Event on June 16 in commemoration of World Refugee Day
July 17, 2014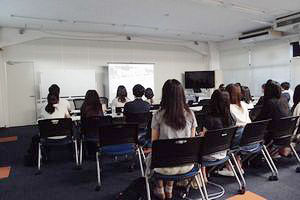 On Monday, June 16, a screening of "The Suffering Grasses," a documentary about the Syrian civil war, was held at G-Lounge on the Ichigaya Campus in commemoration of World Refugee Day (June 20) established by the United Nations in 2000.
The screening was realized as a result of cooperation between J-FUN Youth, a student-based organization addressing refugee issues and providing humanitarian support, and the Center for Global Human Resource Development. The event was held as part of a global screening project called for by Iara Lee worldwide, the director of the documentary. After the screening, a talk event was conducted by Daichi Konuma, the Co-Founder and CEO of Cross Fields (NPO), and Misako Nakayama, a member of the Syria Study Group of Tokyo University of Foreign Studies. Konuma has been involved in international cooperation activities in Syria as a member of the Japan Overseas Cooperation Volunteers.
This event was open not only to Hosei University students but also to the public. Participants watched the documentary, featuring the Syrian civil war that erupted in 2011 and the present situation of people who fled to refugee camps in neighboring Turkey. After that, the participants exchanged their impressions and opinions. After the screening, a talk event was held, hosted by Akari Shimizu, a second-year student of the Faculty of Social Sciences. The event featured two guests who had participated in international cooperation activities in Syria or student-led support activities. The guests shared their experiences and showed a number of photos. Their talks included communication with local people, the current situation of the civil war and the lives of refugees. The participants asked the guests some questions, on such issues as the current situation of refugees, damage to historic structures by the civil war, and how to be involved in refugee support activities as a university student. This event seemed to give each participant a good opportunity to learn about the current state of Syria and to think about how, and what to do to address this problem.