Masahiro Hara, an Alumnus of Hosei University, Wins the Popular Prize of the European Inventor Award for Developing the QR Code
July 11, 2014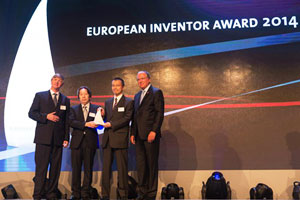 Masahiro Hara, from Denso Wave Incorporated, was honored with the Popular Prize for developing the QR code at the European Inventor Award ceremony on June 17, 2014.
The winner of the Popular Prize is selected by popular vote on the website and Facebook page of the European Patent Office. He has produced a remarkable achievement as the first Japanese to receive the prize.
Mr. Hara entered Nippondenso Co., Ltd. (presently DENSO Corporation) after graduating from Hosei University Daini Senior High School and then the Department of Electric Engineering, Faculty of Engineering, Hosei University in 1980 (presently Department of Electronics and Electrical Engineering, Faculty of Science and Engineering.) He has led engineering development teams and invented the QR code in 1994. The QR code is today a worldwide international standard.